Herefordshire Field-Names and Landowners Database
Where do the field and landowner names come from?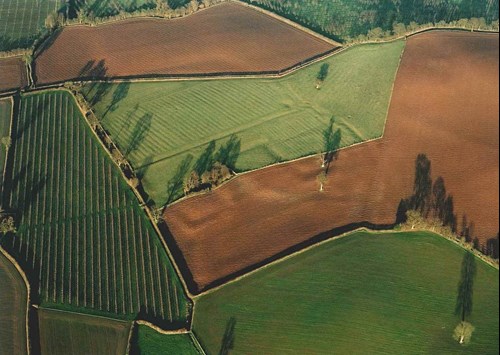 Most of the field-names in the database come from the Tithe maps, which date to about 1840. They were collected by the Herefordshire Field-Name Survey, organised by members of the Archaeological Research Section of the Woolhope Naturalists' Field Club (general editor Ruth E. Richardson), between 1987 and 1993 from the original maps and surveys held in Herefordshire Record Office. We are very grateful to the Research Group for allowing us to use their work. They were then typed up over two years by HER volunteers working from home. The landowner names were collected by Geoff Gwatkin from the original apportionments (surveys) and given to the HER. Geoff has now produced a series of 19th century parish maps with the field-names and list of landowners, and these are available for purchase directly from Geoff Gwatkin (e-mail: geoff.gwatkin@btinternet.com; website: http://www.geoffgwatkinmaps.co.uk/).
The maps are far more informative than a mere list of names. Looking at them you can see the Medieval village, i.e. where the common fields, woods, tracks, meadows, village centre, outlying farms and quarries lay. Seeing the field-names all together in the database can tell us much. It is possible to search for curiosities (were there any gibbets, saffron fields, tobacco plants, lime kilns?), to compare the amount of meadow or pasture between parishes, and to look for industrial sites (e.g. glassworks), crops (e.g. flax, hemp) or particular plants (e.g. juniper, lime). The landowner names are also useful, as in list form it is possible to search quickly for a particular person and to get some idea of who owned what, and where.
How to locate the field
Fields were grouped by landowner, so consecutive numbers are often scattered about the parish. There is no grid reference specific to the field name; you will need the hard copy map to find the location of the field. The maps are held at Herefordshire Record Office (tel: 01432 260750) and in Hereford Library, or transcriptions can be bought directly from Geoff Gwatkin (01989 565852). Copies of Geoff Gwatkin's transcriptions are also available for viewing in the HER office, but for copyright reasons we cannot provide copies.
How to find a person
Type part of the name, or the entire name, in the appropriate box. Remember that many people had the same name, and often the same person had their name spelt slightly differently in different parishes. Remember also that this is a list of landowners, not of tenants. Most of the fields had tenants as well as landlords, and sometimes they were the same person, but usually not. The only way to find the tenant is to go to the original document.